Partnership Opportunities
SHARE IN THE SUCCESS OF BRITISH MOTOR RACING PROTEGE, BEN TUCK
Ben Tucks 21st birthday unlocked the path to what has become a stellar journey in the high echelon of international GT and endurance motor racing. It was 2018 when his success in the UK's premier GT sportscar championship attracted the attention of BMW's global motorsport division in Munich.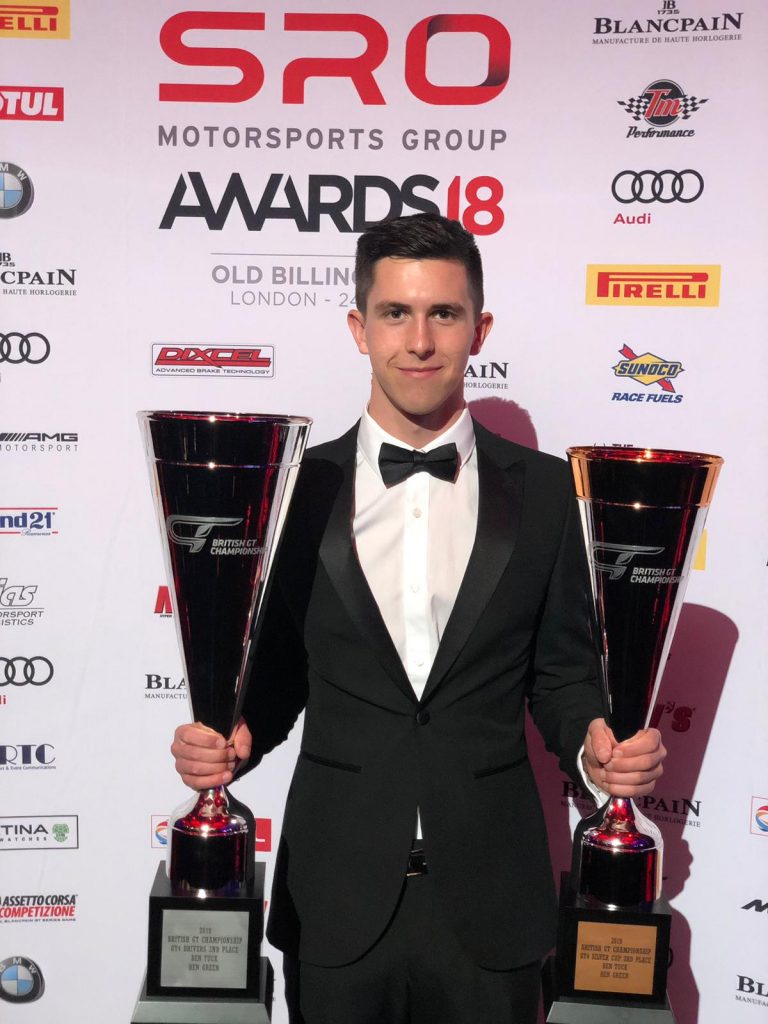 BMW Motorsport's acknowledgement of Ben's rising status – including an invitation to the prestigious BMW Junior Team shoot-out, propelled him into the international racing arena in 2019, beginning his hugely successful partnerships with the elite BMW M customer racing team, Walkenhorst Motorsport and elite Aston Martin squad, TF Sport. An ever-growing trophy cabinet is emphatic proof of Ben's skill and stature, as are coveted personal endorsements by the British Racing Drivers' Club – motorsport's most exclusive club – through his BRDC 'Rising Star' and 'SuperStar'awards in 2020, 2021 and 2022.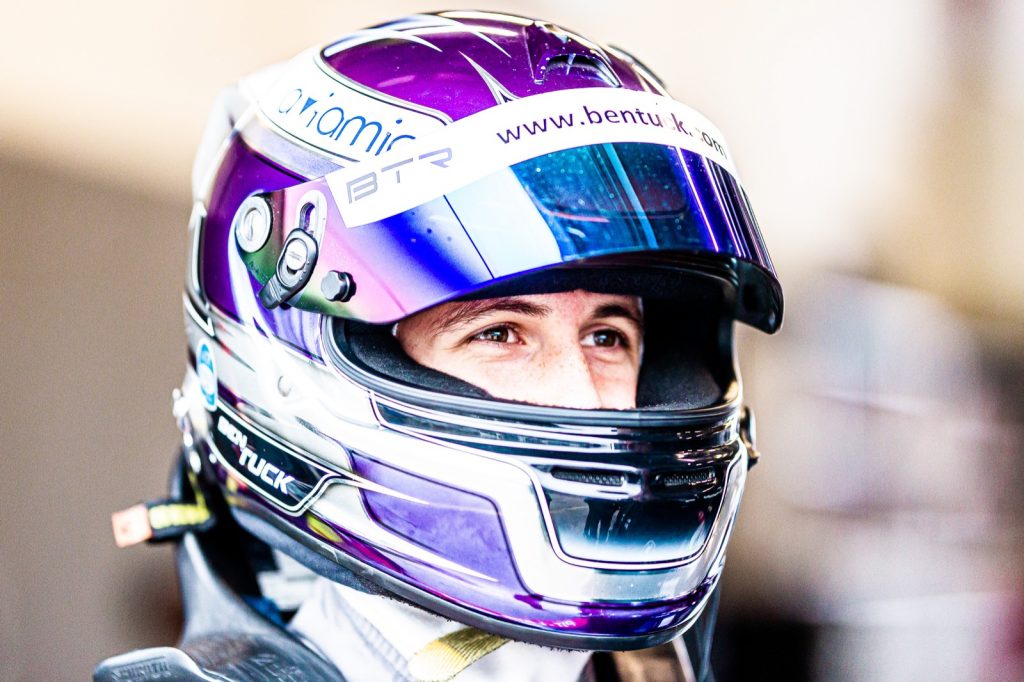 Today, with five years of consistent success in highly competitive GT racing behind him and the momentum continuing to build, Ben is established as one of the brightest young beacons of British motorsport talent. We welcome you to share in his success.
MY AMBITION IS TO BE THE BEST, TO DO WHATEVER IT TAKES. TO WORK HARDER, TO LEARN FASTER, TO THINK QUICKER




AND TO GRASP EVERY POSSIBLE OPPORTUNITY TO PURSUE A TOP FLIGHT CAREER IN MOTORSPORT.

BEN TUCK
Ben is an absolutely focused and charismatic young racer who puts his full commitment into racing and achieving his goals every day. We as a team appreciate his loyalty and determination coupled with his outstanding speed and achievements. Ben is a great team player and we hope to be able to celebrate many common successes together

Niclas Konigbauer, Walkenhorst Motorsport Team Manager



BEN TUCK : SUCCESS AT EVERY TURN
In 2019, his first year with the crack BMW endurance racing team, Walkenhorst Motorsport, Ben raced throughout the season in the VLN series at Germany's infamous 13-mile, 154-turn Nürburgring Nordschleife circuit in the team's BMW M240i and M4 GT4. Immediately on the pace, he finished the season with a string of five successive podiums, one at the world-famous Nürburgring 24 Hours.
2020 saw Ben move up a gear with the team to contest the new DTM Trophy, competing in Germany, Belgium and Sweden in the team's BMW M4 GT4 against other manufacturer-supported teams from AMG, Aston Martin, Audi, McLaren and Porsche. Victory again came his way, with no less than nine top five finishes and third overall in the championship standings.
Such was his rate of progress that after just two years with Walkenhorst, Ben moved up to the top echelon of the team in 2021, contesting endurance events, again at the Nürburgring Nordschleife circuit at the wheel of the potent Walkenhorst BMW M6 GT3 as part of their top Pro crew. It was not long before Ben was leading races, closing in on the NLS lap record and inevitably recording his first GT3 win.
In 2022 Ben again took his place, this time at the wheel of BMW's brand-new flagship – the M4 GT3, claiming another podium.
2023 sees yet another exciting step up as Ben gets getting behind the wheel of the stunning Aston Martin Vantage GTE with GT veterans TF Sport to compete in the highly prestigious European Le Mans Series (ELMS) under the management of vastly experienced organisers, Automobile Club de l'Ouest (ACO) the power behind the legendary Le Mans race itself. With more than 100 years steering International GT and Sportscar racing behind then, they know just how to make it work…for drivers, teams, media, the public and, as our partners, for you too.

BEN TUCK: BEHIND THE VISOR
A WINNERS PROFILE ON TRACK…..
DOB:   3rd March 1997, London
Career Start: Graduate of Motor Sport Association Academy
2022:
BRDC SuperStar award. NLS Championship, Walkenhorst Motorsport, BMW M4 GT3 Pro – 1 Podium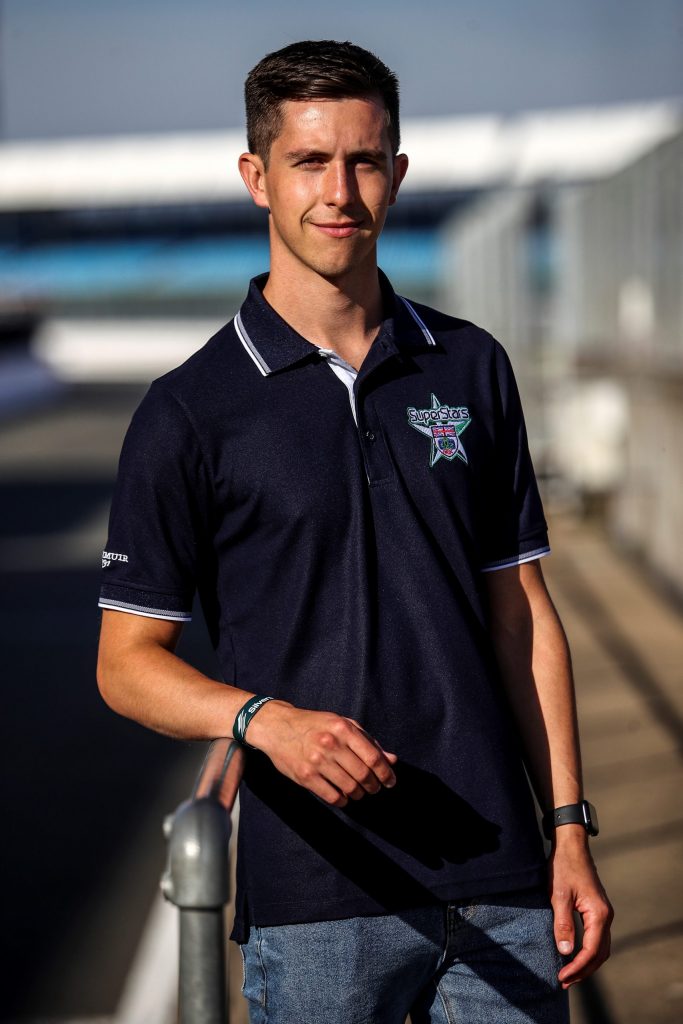 2021:
BRDC SuperStar award. NLS Championship, Walkenhorst Motorsport, BMW M6 GT3 Pro – 1 win, BMW M2 CS – lap record.
2020:
BRDC Rising Star award. DTM Trophy, Walkenhorst Motorsport, BMW M4 GT4 – 1 win, 4 podiums, 9 top fives, 3rd in championship.
2019:
NLS Championship, Walkenhorst Motorsport BMW M240i & M4GT4 –  5 podiums including 3rd at Nurburgring 24H debut. BMW Junior Team selection finalist.
2018:
Autosport Magazine Top British GT4 Driver award. British GT Championship, Century Motorsport BMW M4 GT4 – maiden race victory in a BMW Motorsport customer M4 GT4 in an SRO Championship. Championship runner up by 1 point.
2016/2017:
24H Prototype Endurance Series, Simpson Motorsport, Ginetta G57 – Champion. Caterham Supersports Championship.  4 wins, 2 pole positions, 8 podiums, 3 fastest laps, 2 lap records.
2015:
RSF MSA Young Driver of the Year. Debut full season. BRSCC Mazda MX-5 Championship – 3 wins, 3rd in Championship.
I have known Ben since 2019 when he first joined Team Walkenhorst at the VLN. He showed an outstanding performance right from the start at the hardest and most challenging circuit in the world, the Nürburgring Nordschleife.   In 2020 I had the pleasure to work with Ben in the DTM Trophy, and he won his first race at Spa in one of the strongest GT4 Championships in the world and finished 3rd in the championship. Ben is not only lightning fast, he always stays cool, focused and concentrated, has a great technical knowledge and he is working really well with data and video analysis. Besides this great racer is a well-educated, happy and friendly person…the perfect racing driver package.

Jörg Müller
DURING THE 2018 SEASON I FOUND BEN TO BE VERY PROACTIVE IN DEVELOPING THE BMW M4 GT4 CAR. HE IS VERY MUCH A TEAM PLAYER GIVING 100% AT ALL TIMES. HE HAS BEEN A PLEASURE TO WORK WITH AND I LOOK FORWARD TO DOING SO AGAIN IN THE FUTURE.

LES JONES, TEAM MANAGER, CENTURY MOTORSPORTS. FORMER CHIEF MECHANIC, ARROWS F1
BEN TUCK: BEHIND THE VISOR
ON AND OFF THE TRACK
Ben's credentials are well-proven on the track, and away from the circuits too.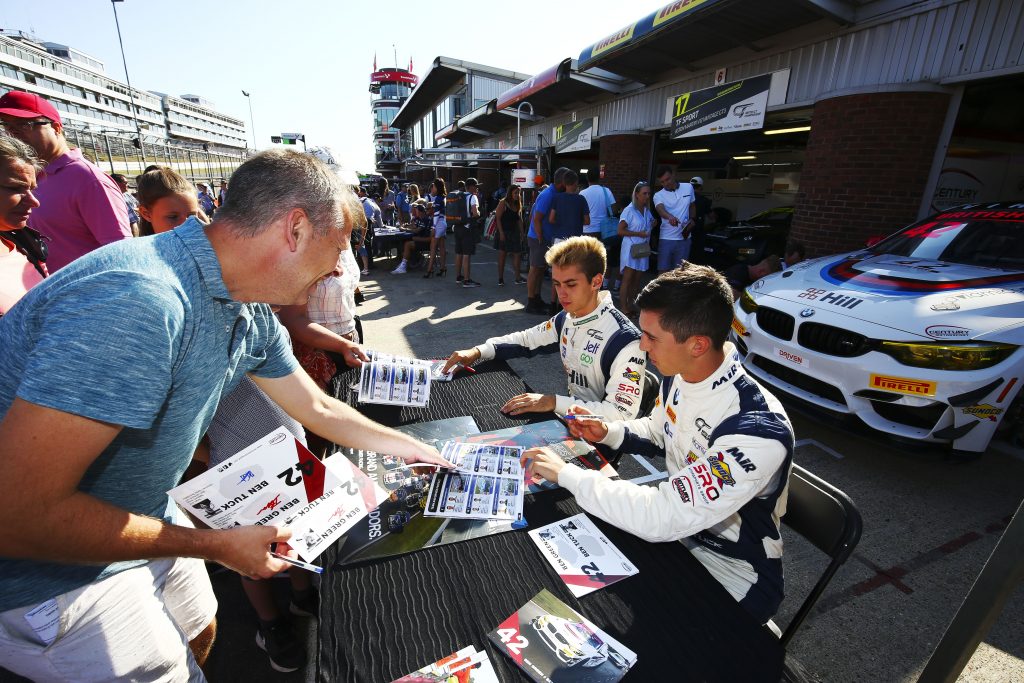 Following and acknowledging his success during 2018, BMW UK invited Ben to join in an official role at Britain's biggest motorsport celebration, the Goodwood Festival of Speed.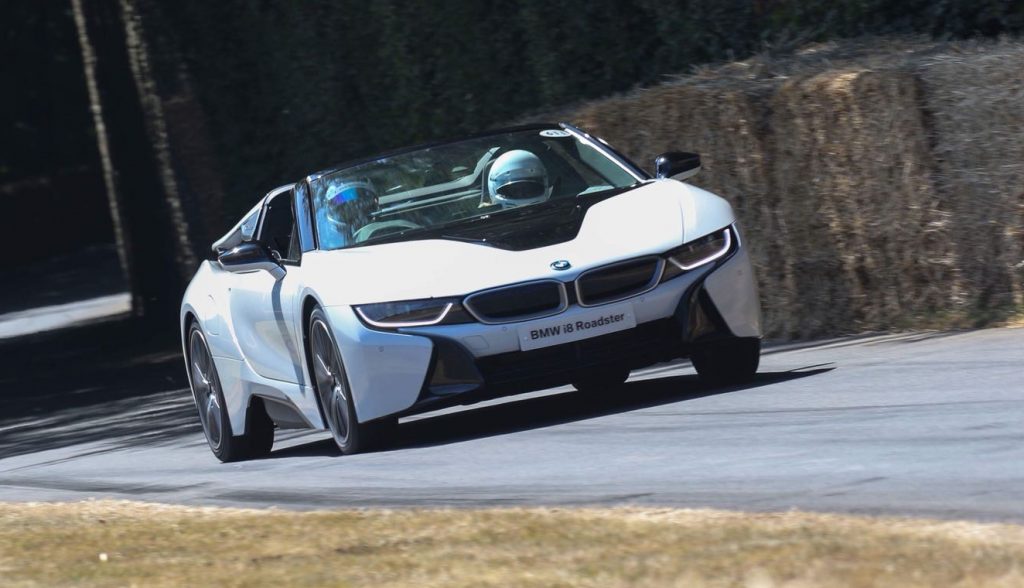 Ben's exemplary social skills proved a match for his on-track performance. Rubbing shoulders with BMW's victorious 2018 British Touring Car Championship team, BMW Motorsport drivers in the DTM and Formula E, plus the brand's international racing legends, Ben joined public interviews and became a high-speed chauffeur to BMW VIP guests in a BMW i8 and brand-new BMW 8 Series on the iconic Goodwood Hillclimb in front of 100,000+ spectators.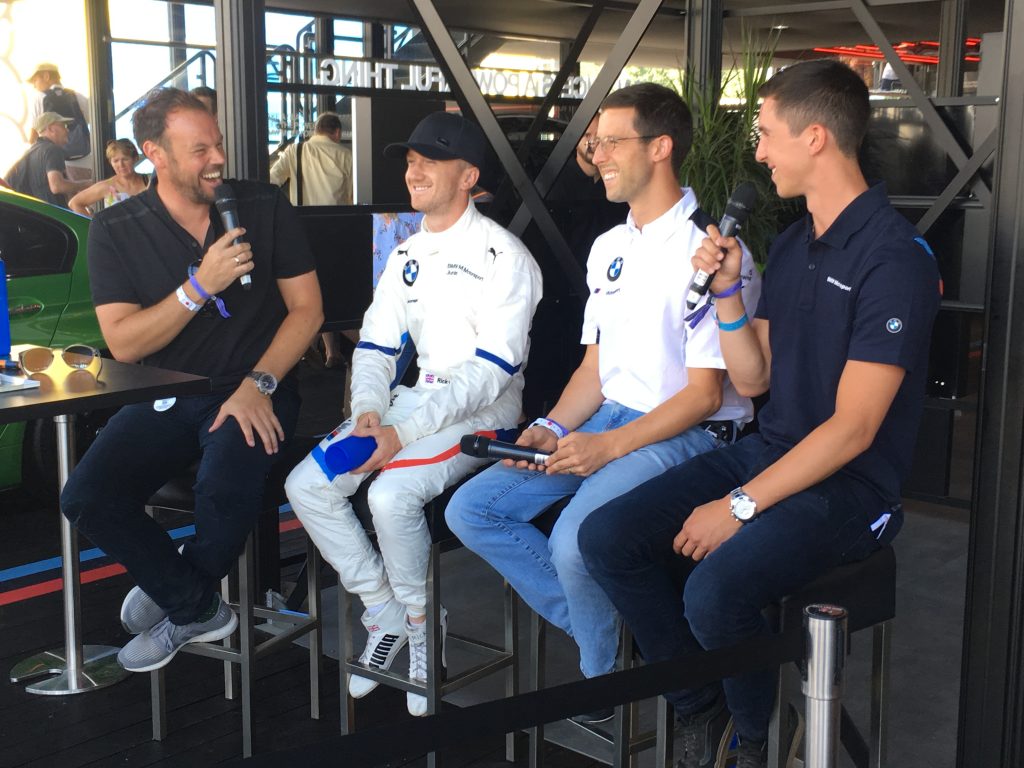 Via corporate partnerships, his on-track achievements, and a highly successful coaching career, Ben has gone on to conduct countless interviews and engagements with sponsors, media and fans alike.

BEN TUCK & 2023 – FLYING HIGH WITH OPPORTUNITY
JOIN US IN 2023
We are delighted to present to you this opportunity to partner Ben Tuck, his team, existing supporters and sponsors, and to share and enjoy the benefits of involvement throughout the 2023 season, and hopefully far beyond.
WHAT WE OFFER

We are realists. We are pragmatists. We deliver value – Three straightforward statements that underline our philosophy when it comes to negotiating and co-operating with our existing and future financial partners.
We provide the entry to an arena that's exhilarating, exciting, attention-grabbing and highly promotable for our partners, but fundamentally it's about business and delivering the best return on our partners' investment with us.
FLEXIBILITY
Flexibility is another of our mantras. We understand that our partners have different objectives to fulfil, and so we individually tune involvement with Ben and the team according to what will work best to achieve our partner's goals,and return the maximum value from every pound, euro or dollar spent.
We're not alone in accomplishing this…With their years of experience, the championship organisers provide us with a first rate infrastructure and resources to fulfil our and our partner's needs, from highly visible TV race exposure, through a well-oiled and highly-effective Championship PR and promotion, to collaborations with race-day hospitality.
A TIERED APPROACH TO INVESTMENT
From our experience of partner requirements, allied to their required level of financial involvement, we have developed a tiered approach to financial investment in Ben and the team. This is purely the starting line. We then negotiate individually with all partners to fine tune rights and involvement to suit specific requirements.
We look forward to talking with you…
TEAM TITLE BRANDING
RACE CAR BRANDING
RACEWEAR & HELMET BRANDING
YOUR BENEFITS OF A PARTNERSHIP
PRACTICE & RACEDAY VIP GUEST HOSPITALITY
PERSONALISED RACEDAY GIFTS
DRIVER AND TEAM MEET & GREETS
BESPOKE PROMOTIONS
SEASON LONG PR & SOCIAL MEDIA
STAFF & CLIENT MOTIVATION DAYS
COLLABORATIVE PARTNER NETWORKING
DEDICATED RIDE & DRIVE EXPERIENCES