Positive test programme completed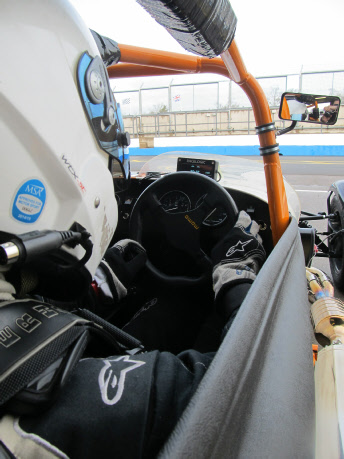 As the cold blustery winds swept across Snetterton heralding the arrival of Storm Katie, Ben Tuck drew his Caterham Supersport to a halt to finish his pre-season testing programme on Saturday. The day saw his first experience of the Snetterton 300 circuit and with it, continual improvement across each of the sessions. "We came here and achieved everything we set for ourselves" he said. "I've got a good handle on the car in most conditions now and I'm just itching to get out there and race". Recently Ben got the chance to share the Donington tarmac with his championship adversaries in the Caterham Motorsport official pre-season test. "We've got an idea of where we are compared with the others and I'm looking forward to some good battles", he said confidently.
MSA Academy star and RSF MSA Young Driver of the Year, Ben is just a few short weeks away from his Caterham debut, where he will line up in the Supersport Championship next to dozens of experienced Caterham racers. Signed with the PT Sportscars team for 2016, Ben comes from his first full car racing season in 2015 where he battled for the title in the Mazda MX-5 Championship, taking the fight to the very last race with a win. Finishing the season top on points, he took 3rd in the championship after drop scores were deducted hinting at his impressive consistency – never outside the top 9 and without a single DNF, including a stunning guest appearance at Spa where he dominated with fastest laps in testing, qualifying and with Pole, Class Win and fastest lap of the race.
His pre-season testing campaign has allowed him to get to grips with the 140bhp Caterham, which sits on the second to top rung of the Caterham Motorsport ladder. Ben summed up the last few tests, "I'm really comfortable in the car, more so than with the Mazda from last year. I've found good pace everywhere that we've been and the car has been solid and reliable. I'm confident we can go for wins right out of the blocks".
2016 will be a big year for Ben, after 'nursery' in Mazda's, Ben is hoping to build his credentials as one of the UK's top drivers as he looks to enter GT racing in 2017. He has certainly impressed some big names, attending the 2015 Autosport International awards in December and collecting his RSF MSA Young Driver of the Year award in January.
"I'm looking forward to Round 1 at Brands Hatch in April and I'll be making sure I put in a good performance for my team and my sponsors".