BEN TUCK RACING LINKS UP WITH BARONS BMW AHEAD OF GOODWOOD FoS APPEARANCE!
Ben Tuck Racing is proud to announce two exciting new developments that deepen links with luxury and performance motor brand BMW. A new collaboration will see Ben Tuck working closely with Barons BMW Cambridge in Cambourne, whilst at the weekend he will be joining BMW at the prestigious Goodwood Festival of Speed.
The Goodwood Festival of Speed is one of the most esteemed and exciting Festivals in the automotive calendar. The four-day Festival features a huge variety of vehicles and manufacturers' stands along with celebrated faces, making it one of the most popular events in the automotive world.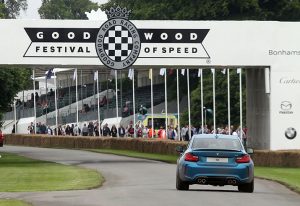 BMW Group will once again be returning to this year's Goodwood Festival of Speed showcasing an array of beautiful new machinery including the UK premier of the BMW 8 Series.
Ben will joining BMW to help showcase the brand's latest products, including a run on the world famous hill climb course before taking part in interviews with fellow BMW racing drivers from the British Touring Car Championship and Sports Car racing in the impressive BMW Pavilion.
Bens work with BMW will not finish at the close of the Festival, as he'll continue to be closely involved with the BMW brand and Barons BMW Cambridge.
With an impressive new showroom in Cambourne, Barons BMW Cambridge is part of the Group 1 Automotive network, a well-established and growing automotive group in the UK, with offices in America and Brazil.  Group 1 Automotive is the 10th largest dealership group in the UK, has a strong history of success and is looking to further grow their presence in the UK over the coming years.
Barons have extensive local collaboration and outreach initiatives and are enthusiastic supporters of local businesses and sporting endeavor beyond the forecourt. The new partnership is a perfect match, with Baron's reputation as class leaders in driving technology combining with Ben's successes on track in the British GT Championship with the stunning BMW M4 GT4.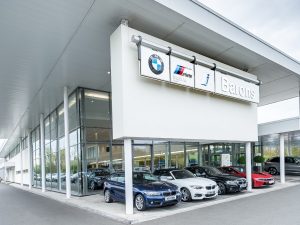 Ben Tuck is excited at the new opportunities.
"I'm really proud to be working with BMW at Goodwood and also with Barons BMW. We've shown that the BMW M4 GT4 is a brilliant racing car, and we've worked closely with BMW at the track to get the best out of it. Now this is an opportunity to show that the road cars are just as good!"
Kevin Appleton, Head of Business is just as enthusiastic.
"Ben Tuck is a hugely exciting driver and a great way to show that motorsport heritage and performance is at the core of what we do at BMW. His experience and knowledge as a racing driver in the track version of the incredible BMW M4 can bring a unique perspective to our partners and customers and we can't wait to start working with him!"
Ben's next race is at the legendary Spa-Francorchamps circuit in Belgium on 22nd July 2018.