Encouraging top ten after difficult weekend at Snetterton
The long awaited good weather arrived last weekend at Snetterton in Norfolk, but despite the sun Ben Tuck's debut Caterham Supersport season continued to throw problems at him. After blistering lap record pace in Friday practice, Ben was held up by traffic throughout qualifying, whilst Race 1 saw a yet another superb fight up the order before another harsh penalty affected his finish in Race 2.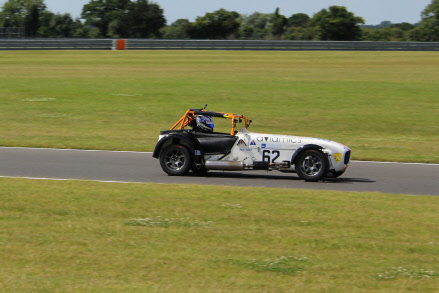 Rounds 7 & 8 of the Championship promised another opportunity for Ben to make good on the front running pace he has displayed, particularly since installing a new engine at the last race at Zolder in Belguim. Friday practice showed just that, with lap times running close to the lap record. Because of the two long straights on the 2.79 mile circuit and the strong winds, a major gain was to be had by drafting behind other cars. However, with 35 Supersports on track, Ben was held up by slower cars on all but his first flying lap and was never able to exploit this gain in speed. After a frustrating 20 minutes Ben found himself a full 1.5 seconds slower than the day before, good enough for only 13th.
With a tough race ahead of him out of position in Race 1, Ben wasted no time blasting past no less than 6 cars on the first lap, and briefly peaking in 4th position after 3 laps. Thereafter he was occupied in a ferocious battle for the podium regularly trading and swapping positions corner by corner. As the race finished Ben had slipped to 9th place. "The fights just keep getting more fierce!" said Ben after the race. "It was seriously hard, just on the right side of fair. We didn't seem to take any damage and it could have been any one of us that took 4th or 5th place". It was discovered after the race that the car had in fact picked up a potentially serious problem with the differential.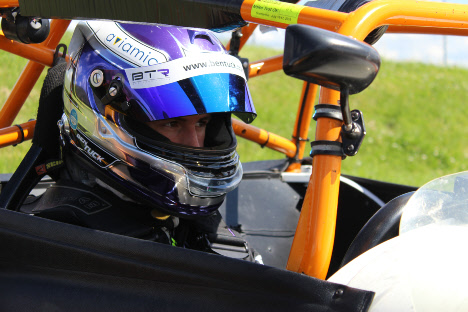 Race 2 on Sunday, was another opportunity to move forward. In blisteringly hot and windy conditions, the draft effect on the straights was to be critical. After hurried repairs to the differential, Ben took to the grid. A difficult start saw him drop a few places, but he regained them swiftly and began to move up the order, reaching 7th after a few laps. Once again, Ben became embroiled in a fierce fight behind the leading pack.Conscious of the draconian penalties that he had suffered in previous races, Ben made sure to give racing room to his fellow racers in the battle. Using all of the experience he has built up this year, Ben managed to heroically hold on to 7th place at the line. Although not reflective of his raw pace, the finish was nevertheless a solid result given the problematic start and the brutal battles he faced. "Again a really tough race, fair but these guys give absolutely nothing away, its a fight to get anywhere!" Ben remarked after the race.
However, post race, the stewards adjudged Ben to have exceeded track limits whilst battling and demoted him 3 places to 10th with no leave to appeal. "Its harsh" Ben reacted, "We couldn't have avoided a penalty. It would have been causing a collision if I didn't give room or exceed track limits to avoid a collision. We'll look at where I can learn more about what to do in those circumstances, I'm still learning. These guys have been in Caterhams for a good few years, this is my 4th ever meeting. Taking a front row quali [position] at Brands, a 4th place finish in Zolder and P13 to 4th in 4 laps here, we know we have the pace and its just about hooking it all up. We went into the Mazda's last year in the biggest, most competitive and highest standard season in the championships history and got 3rd, and we've done the same here, biggest grids and the highest standard they have had. We don't make it easy for ourselves!"
The weekends results leave Ben in a still creditable 14th place in the championship out of 45 competitors, with high hopes for the next rounds at Oulton Park, a circuit which hosted Ben's first ever race and his first ever win.