P4 FINISH IN CHAOTIC NURBURGRING 24HRS
Ben Tuck had his hands full in a battle with an old and well-known adversary at the legendary 24Hrs of Nurburgring at the weekend – the weather. In a chaotic race, very heavy rain caused havoc, eventually bringing out the red flag as night fell. The race resumed the following morning, however the rain returned towards the end causing more trouble. Despite it all, Ben and his fellow co-drivers carefully avoided incident and brought the car home in 4th position.
In his second appearance at the world-famous endurance race, Ben was part of a 4-man crew in the familiar Walkenhorst Motorsport run BMW M4 GT4. With 3 qualifying sessions across 2 days and 1 night before the 24Hrs race itself and severe weather forecast, the crew and the supporting team were gearing up for one of the most challenging races in the world.
The first qualifying session on Thursday was the only time that a dry period was forecast, so the pressure was on for Ben to set a qualifying position for the team and he duly claimed a front row grid slot.
The race on Saturday afternoon started under ominous skies. Ben was immediately locked in a battle for the class lead with the sister Walkenhorst BMW amid spinning cars and incidents. Within a lap, Ben headed the field and started to build a lead. However, as the conditions deteriorated his tyres began to struggle and the chasing Mercedes and Aston Martin began to close back in. After an initial stint of 1hr 10mins Ben brought the car back in 3rd position.
As the rain worsened, his team mates steadily kept the BMW on track amongst several incidents, slipping to 4th spot some laps down. By 10:20pm Ben was scheduled for his next stint as the rain became ever harder, by now mingled with mist and fog. However, less than a lap into his stint and after several crashes amongst the GT3 class leaders, the decision was made to red flag the race.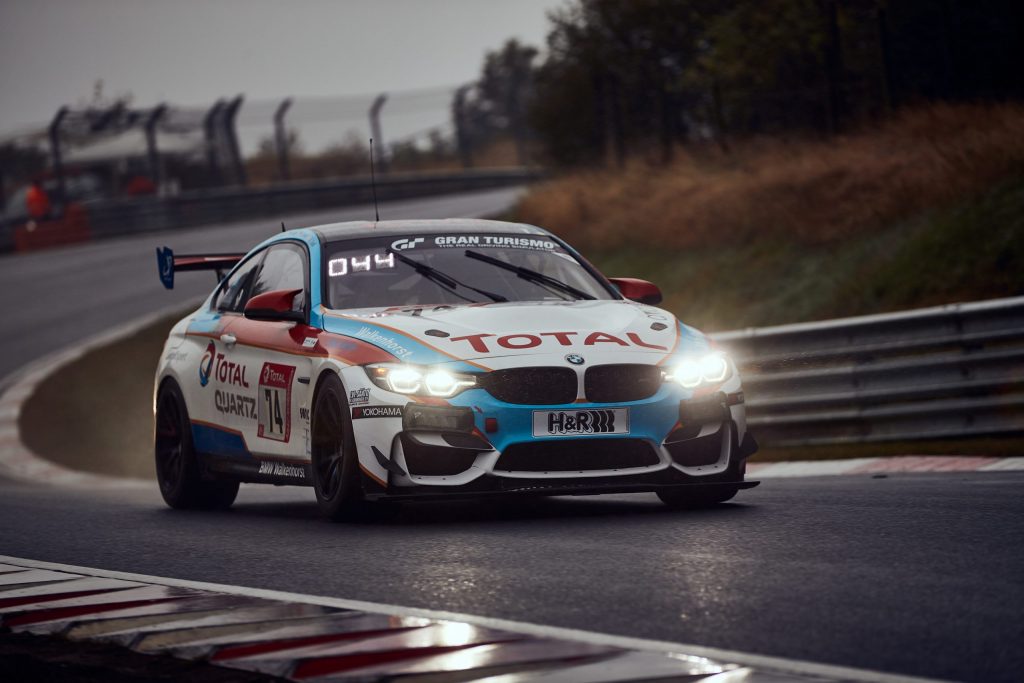 The rain lasted all night and so the race resumed the following morning in wet but drying conditions. Ben was up first for the restart and began to attack the cars in front retaking 2 of his class competitors. After an hour in improving conditions Ben handed the car back to his co-drivers to complete the race.
After a solid final section of the race run in changeable and tricky conditions, the team successfully brought the car home in 4th position. Although the race had been halted for around 9 hours, the crew of the #74 Walkenhorst BMW were satisfied in the conditions to have completed the race intact.